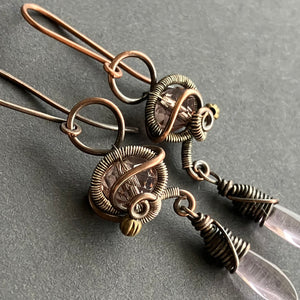 Copper earrings with pale pink glass beads.
5,5cm long with ear hook.
Wire wrapped copper earrings with beautiful dark purple beads.
This piece is made with wire wrapping technique from copper wire with pale pink glass beads.
WILDFLOWER collection:
The collection represent the strength of being yourself. If you feel like, that you are not beautiful enough for society's standards, think of little flowers blooming from the cracks of concreat. They are strong enough to live in hars condition and feed the bees, in the meantime the garden flowers die in the summer heat.
Shipped in an ECO-friendly little jewelry pouch.